MOBILE PHONE PHOTOGRAPHY - MAKE GREAT FOOTAGE
Mobile Phone Photography

Years ago, I would have told everyone to hire a photographer with decent experience in shooting real estate, with a DSLR (ie. fancy camera) and the right lenses. I still tell folk to do that, but if you can't afford to spend the money and/or it is not justified then modern phone cameras are not such a bad idea any more. Why? The tech has become so good that a decent phone camera – we're talking upwards of R6,000 at least – will not disappoint.
So, without further adieu, this page of content is for those real estate agents that want to pay R300 to R500 for a set of photographs of a property (which is so low you can't feed a family on it) but also for those stuck indoors on lockdown wanting to sell or rent their homes, and having no means of getting a photographer to their place. We hope that it helps you see some basic tips and tricks to taking better photos, and even experimenting with some video.
If I had a small studio apartment, and the latest Apple iPhone, or the Huawei P30 Pro, I'd invest some time into doing it myself. Unless of course, you could spend those 2-3 hours actually doing other work that pays you better for your time. In that case, get in touch with one of our team members for some great, years-of-experience-behind-us photographs.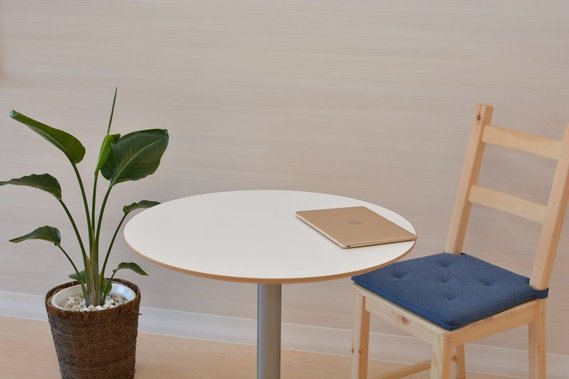 Angles
The first thing I'd suggest to folk is to take photos from the right angle. For instance, let's say there is a table in the lounge of a home, and you take a photo 3-4 feet higher than it. You do this because you are six feet tall and your eye wants to be right by the screen of your mobile. Rather, take the photo about 12-18 inches above the table, so that it looks more natural. This photo displayed here – looks unnaturally small, right? That laptop must be about 4 inches wide. But somehow your brain knows the typical size of a laptop and chair so you work it out but… it's just a poor angle, and focal length.
In the same way, if you are taking photos of a kitchen, and you are so low that you can see the underneath of the kitchen cupboards (assuming they are at eye level, above the surface of the kitchen counter) then rather have the phone higher.
Summary: Being a good, relative, realistic-looking distance from the main flat surfaces in a bedroom, lounge, kitchen, or anywhere will make your photos look more natural. Take a look at some of the typical work we do and see what I mean.
Focal length

The reason us real estate photographers need a wide angle lens (among others) is that we need wide angles to encompass as much of a room as possible; especially bathrooms, as those are notoriously cramped spaces, except for the homes of the super rich. So, we often have lenses like the Nikon or Canon's 16-35mm, or Tamron's 17-40mm, or the other sizes from Sigma et al.
With a phone, it's a little different as your lens is almost certainly to be set at one focal length. But! Things are changing with some mobile phones having not one, or two, but four(!) lenses on them. Sure, one is likely a "selfie-lens" but still, you now have the ability to choose some focal lengths and you could make sure that only the shots that really need that wide angle have it, and others are a little more natural.
More importantly, your phone may well have excellent video quality, and at an angle that is really appealing/engaging to the viewer. In fact, we are so behind this phone tech that we actually use it ourselves! We also use a gimbal to steady the camera and more on that in future articles…
Light, light, and… light!

When I asked what is the main key to photography (to the first pro photographer I chatted with back as a teenager) he said "Three things: light, light and light". We all know this. It's so obvious that no-one even says it anymore, not even random amateurs who don't take photos. Without light you can't see anything, and we all notice when lighting is terrible, but getting good lighting isn't as easy as it sounds.
One, shooting a room with a window to the outdoor world is going to be hard. To compensate for it, someone with a DSLR has a few options. Digitally do something about it (after bracketing a few shots), light the room up with flash lights, or let it be natural and what is called 'blown out' so it is so white it's just how it looks – this is also, interestingly, Airbnb's photo policy as they want all photos 'looking natural'. Real estate agents typically just close the (often white) curtains and hope for the best.
My solution for you guys is… do the best that you can with what you have got and take a few options. Then, pay someone (like us) to digitally work with the image afterwards to remedy it. With software as it is now, you won't believe what can be done. Ideally if you were to take 50 photos in a home, only 4-5 in total would need such work but if your phone's camera is amazing and you have framed the shot well, and give us enough to work with, we can likely work some magic. See the Virtual staging option to see what can be done.
In conclusion

If I had more time I would add five to ten more points here. Things about finding your "ninety-degree", things about time of day to shoot, about cloud cover, and things floating in the pool, about colour balance, and framing shots nicely, and the clichéd "less is more". I will do so in good time – maybe after lockdown. But for now, I hope this helps, and feel free to mail any other questions you may have. Always happy to help 🙂
INFORMATION

Answers to Typically Asked Questions

Save us both some time by reading through these typical questions. You will thank us later when you've managed to prepare your property better thanks to our advice.
NOT READY TO LEAVE THE SITE?

Check out our Blog!

We have years of writing entries from Cape Town to Korea, and Geneva to Gamamadi (in the Central Karoo). Take a look see…